Author:

vladmin

Posted:

June 7, 2015
THE WRITERS DEN – SEEKING INSPIRING LOCAL CAFÉ in Hillcrest Village By Christoper Sweeney
Local author Danielle Younge-Ullman is looking for a new home in the Hillcrest-Humewood area and it isn't something her realtor husband can help her with. "I'm in the market for a coffee shop to write in. This is critical for my psychological health," she says with a laugh. Her favourite local coffee shop recently changed hands and switched to a sushi restaurant, thus putting her in the market for a new getaway. "It was the tablecloths – they were the telling sign that this wasn't a place for a writer to hang out for hours with a series of coffees and a computer," she explains. Knowing this, it made perfect sense for us to meet in Cocoa Latte for the interview–while talking about her new book, she could check it out as a possible new locale. "Currently, it's between here and World Class Bakers." Danielle usually works at home, but so does her husband, and every so often she needs another space to write in. She enjoys the social community of writing in a coffee shop–alone or when working with her writing group. She has a few requirements: friendly, airy, no WiFi, as it is a distraction, big square tables that can handle a couple of laptops and, of course, lots of outlets. Cocoa Latte is looking good but might need bigger tables and more outlets. However, the coffee is good and it has a nice vibe. Having settled in, we quickly moved to the topic of her second book,
Lola Carlyle's 12-Step Romance
, is due out this May. It's a coming-of-age Young Adult (YA) romantic comedy. It starts when Lola, a celebrity brat, is bored and decides to check into a luxurious Malibu rehab to be with her best friend. Her friend tells her it's essentially a spa and that a celebrity Lola has a crush on is there. Even without a real addiction, she fakes her way in and finds out it's not as it was advertised and it's going to take more than she bargained for to get through the program. Early reviews have remarked on the humour and surprising depth of it. "It's actually a little long for Young Adults (YA). It's mostly for teen girls–or for anyone who has done something stupid because of a crush."
Danielle moved to YA after writing her first book for a couple of reasons. In her first book,
Falling Under
, part of it takes place when the protagonist is a teen and Danielle found that the most fun to write. She wanted to write something a little lighter and the YA market was a growing one.
Lola
was picked up by Entangled–historically more of an e-books romance publisher. While originally planned as an e-book, her editor grew to believe
Lola
could have a print run and now is being released here and in the U.S. as a trade-size paperback and e-book at all major retailers, online and in stores. Danielle's been in the neighbourhood for 10 years now. She's noticed some changes and improvements in the area – more good restaurants (though she and her husband and two young girls still like Ferro for reliable dinner out) and shops. What does she think the neighbourhood needs? "A local book store – my agent has just opened one in Hoboken and it made me jealous. And more coffee shops!"
---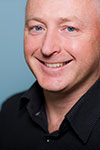 Christopher Sweeney is a screenwriter, graphic novelist, lawyer, university lecturer and stay-at-home dad. His comedy script about a dysfunctional parent council, Parental Advisory, was made into a bravoFACT funded short film and is currently being developed as a TV series through the National Screen Institute Totally TV program. You can check out his humourous parenting blog, Pop Culture at: popculture-superdad.blogspot.com